One detail of a wedding that is easy to overlook when planning your own wedding is the chair decorations! Professional wedding planners often use this small detail to give a wedding the "WOW!!" factor. There are so many options when it comes to decorating chairs at your wedding, here are a few of my favorites.
Fabric Chair Covers
This style can quickly get expensive even if you are doing it yourself. As expensive as time is these days I would recommend that you rent or borrow fabric chair covers if it is possible. If you are having a big wedding it could be too much trouble to sew 100 or more chair covers! If you are adamant about creating your own fabric chair covers here are a few great tutorials to teach you how to make them.
DIY Fabric chair cover tutorial!
You will need to "borrow" one of the chairs that you will be using during your wedding so that you can get the correct measurements to make this simple chair cover which can easily be updated to match your wedding by adding bows and ribbon.
DIY Pillowcase style chair slip covers!
If you insist on having fabric covered chairs at your wedding or your reception, this is definitely the least time and money consuming way to go if you are making them yourself. Use a simple pillowcase pattern and make! Anyone who can sew a straight line can pump out at least 3 of these per hour, so grab your wedding helpers (and their sewing machines) have a slipcover making party and stitch away!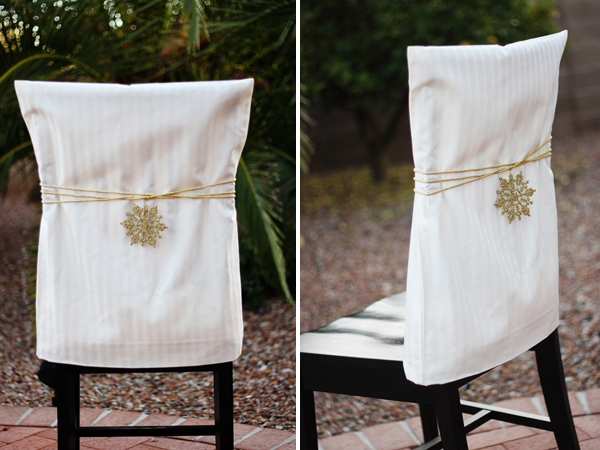 Ribbon Chair Decorating
When it comes to saving time and money during wedding planning, using ribbon is the way to go. Depending on the color, style and texture of the ribbon that you choose, you can create many types of looks for your wedding day.
Hanging Ribbon Wedding Chair Decoration
This style is easy to do, but it can take awhile to dissassemble after the wedding. Simply choose a mix-match of ribbons that suit your decor and tie them to the top of the back of the chair and let them hang!
Big Bow Ribbon Chair Decoration
A simple way to decorate your wedding chairs is to tie a big bow around the chair back! Although this is a simple technique, it will add a lot of style to your wedding. It is easy to do and easy to take down!
DIY Flower Chair decorations
Live or artificial flowers always make a great addition to any wedding if they are used to accent the rest of the decorations, and this holds true when decorating chairs for your wedding.
DIY Tulle Wedding Chair Decorations
Tulle is probably the cheapest way to go that will provide beautiful results on your wedding day.