This website will Show you a single pattern for making a Christmas Stocking Four different ways!
Use this free sewing pattern to learn how to make this great bohemian stocking. Use vintage supplies for an added special touch.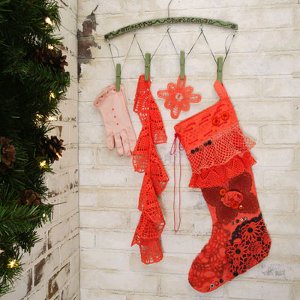 With this free sewing pattern for an Embroidered Christmas stocking you can learn how to make a beautiful custom stocking, suitable for gifting.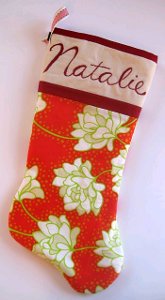 Learn how you can take those outdated Christmas sweaters and turn them into beautiful Christmas stockings that will add a special touch to your holiday decorations this season.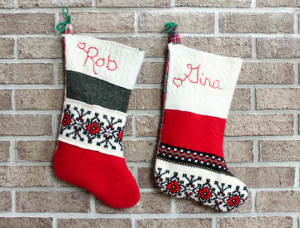 This is a great project for beginners! Learn how to take those cheap stockings that you can buy from walmart, target, and the dollar store and give them a new life with a quick addition!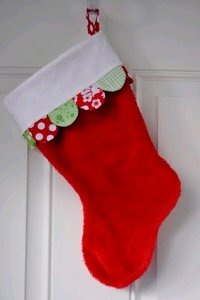 Here you will find how to make a classic cuffed Christmas stocking using vibrant new fabrics and patterns.
Learn how you can make this beautiful lined stocking to adorn the mantel in your home this holiday season.
This free sewing pattern and free tutorial will teach you how to make this awesome retro style Christmas stocking!
How cute are these initialed Christmas stockings?!?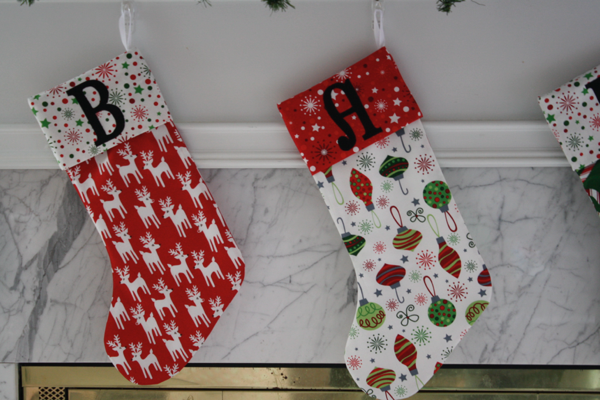 If you are willing to spend a few minutes to make this stocking you will find that it is worth it! Beautiful and timeless, you will be able to add this to your holiday decor year after year.
Okay, how adorable are these? This free pattern will show you how to make this ultra unique Christmas stockings!
Elves are a wonderful part of the Christmas season. Check out and learn how to make these super cute stockings that pay tribute to the little guys this Christmas.
A very unique sewing pattern to teach you how to make a very unique stocking to hang this Christmas season.
The feel of chenille definitely brings back childhood memories for me. If you are like me you will love this free sewing pattern that teaches you how to make a beautiful Chenille Christmas Stocking.
Here are some great Ideas and Projects to help you save some money while preparing for college.
If you are going off to college this year or you are close to someone who is, then you probably already know how expensive it is. I am not even talking about the cost of classes or to attend school, but just the cost of moving into a dorm room can drain the bank. As you will probably learn throughout the next few years, cutting back on the small things is not an option, it is a necessity! You can try some of these awesome DIY dorm room projects to help you save a few bucks, or if you aren't heading away to college, to give to a college student in need.
DIY Dorm Room Shelving
There are so many different ways to make your own shelving units for your dorm, and chances are, you WILL need lots of storage space. Using a little thriftiness and craftiness you can make a shelf that suits your taste, and you can do it yourself!
To make this sweet looking wall shelf you will need very little supplies, a couple of old leather belts and a piece of wood or two will do!
You can make this great floating Book Bookshelf very easily using an old book. Use your unsold textbooks or an old encyclopedia to make a great shelf for your dorm.
This is an easy shelf to make and with a little bit of recycling you should be able to get the materials pretty cheaply. That makes it a great DIY project for a college student!
DIY Dorm Room Decor
Your dorm room is your first home away from home. You should express your self using the decor in your new home. It can be hard to show your style when you are broke, but it isn't impossible! Maybe one of these great DIY Dorm room decor ideas will suit your taste.
Cork-boards are a great addition to your college dorm room. Save a few bucks by learning how to make your own corkboard.
This is a great way to use old cds to decorate your dorm room.
I LOVE this idea! A super cute and super easy way to really step up your dorm decor.
This is a quick project that you can finish in a day and you can find any craft paper to suit the style you are going for in your dorm room.
Christmas lights aren't just for Christmas… they are for Christmas and College. No college dorm room is complete without the mandatory fairy lights.
Here is a great video that has some tips for decorating your dorm room.
DIY Dorm Room Seating
You will no doubt need as much seating as possible for your dorm unless you plan on keeping that floor clean enough to sit on! You can try some of these great ideas to make seating for your dorm.
These are great for storage and for seating. Learn how you can make these great crate seats for your college dorm.
How creative are these adorable paint bucket seats? You can learn how to make them for your dorm room using this very explanatory blog post.
This bench can hold quite a few friends for your study group! Can you believe it is made using an old IKEA shelf?
These are some really great  Ideas for Shelving, Storage, Decor or seating for your college Dorm! No matter what your style, you will find something that you like in this list of DIY college dorm room projects and Ideas!!